Not surprisingly, given its rich environmental heritage, the West Coast of the Southern Alps boasts five of New Zealand's fourteen national parks – Kahurangi, Paparoa, Arthur's Pass, Westland, Mt Aspiring – along with the South West New Zealand World Heritage Area.
The West Coast and its Glaciers
Among the scenic treasures to be found on the West Coast are New Zealand's highest mountains, lowest glaciers, finest lowland rainforests (with the tallest trees), wildest beaches, longest caves and most natural rivers. Days can be spent exploring the region, which Rudyard Kipling described as "the last, loneliest, loveliest, exquisite apart".
Some 140 glaciers flow from the Southern Alps, but of these only two (the Franz Josef and Fox Glaciers) penetrate as far as the lower rainforests.
Few sights equal the spectacle of these giant tongues of ice grinding down through temperate rainforest to just 250 metres above sea level (this is the only place outside Argentina where this occurs).
Franz Josef Glacier
Visitors are often surprised to find such a warm/mild climate in Franz Josef (due to the moderating effect of the sea and rainforests), given the proximity of the glaciers and the highest peaks of the Southern Alps only a few kilometres from the township.
Two guiding companies offer a variety of guided walks & climbing experiences, to suit all ages and abilities. Heli-hikes and scenic flights with or without snow landings are also available. Other activities include a variety of rafting experiences, white heron sanctuary Tours, rainforest and coastal walks.
Franz Josef township offers a range of quality accommodation, hotels, cafés, arts & craft retail, a general store and service station for motoring needs.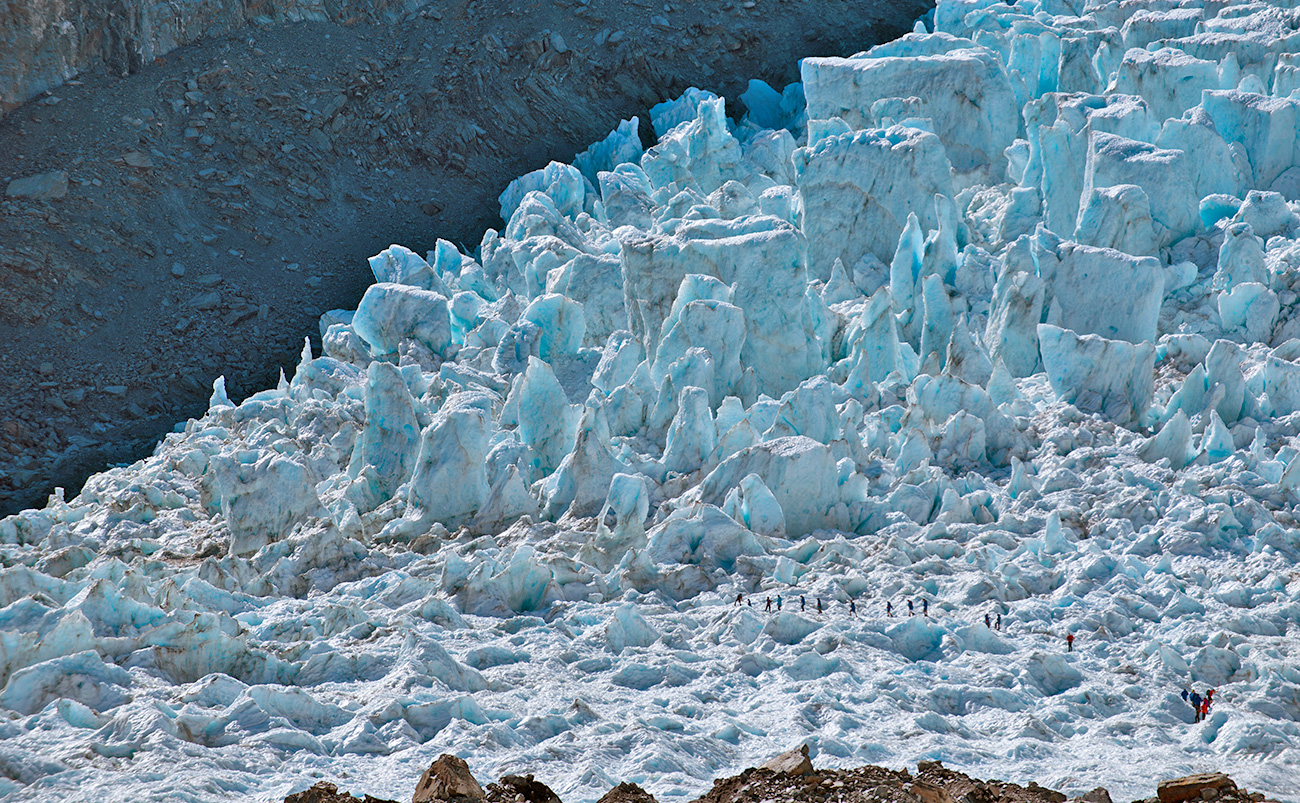 Fox Glacier
The Fox Glacier township offers a more intimate 'village' experience than its bigger neighbour, Franz Josef. Tucked into the rainforest-clad foothills of the Southern Alps, the township offers a range of good quality accommodation, hotels, cafés, a general store and service station for motoring needs.
The Fox glacier offers a different set of glacier experiences than the Franz Josef glacier, and visitors are increasingly booking activities on both glaciers during their visit to Glacier Country. Local companies provide access to the Fox Glacier by way of guided walks, heli-hikes, and scenic flights with or without snow landings.
Fox Glacier is also internationally renowned for Lake Matheson's stunning reflections of Aorangi/Mount Cook and Mount Tasman. The lake is located 6 kilometres west of the township. Further down the valley, driving through rimu rainforests, brings you to the site of the old gold mining settlement of Gillespies Beach on the shores of the Tasman Sea.