In the Maori language, Auckland is known as Tamaki Makau Rau, the city of 100 lovers. It earned this name because it was a place desired by all and conquered by many. The Auckland region is an antipasto of environments laid out on a huge platter to make one amazing city, boasting three harbours, two mountain ranges, 48 volcanic cones and more than 50 islands. Auckland's population is approximately 1.4 million, making it by far the largest city in New Zealand, with one third of the country's entire population.
Two Experiences, One Destination
Surrounded by the unique Hauraki Gulf which encompasses over 50 South Pacific Islands, Auckland provides visitors with an abundance of wonderful experiences and discoveries. Within an easy 30 minute ferry ride of downtown Auckland, visitors can escape to an idyllic island experience combining beautiful scenery with fabulous wineries, superb Pacific Rim dining and eco tourism products.
The Hauraki Gulf experience is complemented by a modern, evolving city, with a new infusion of restaurants and bars, a host of new luxury accommodation and a vibrant waterfront. There's also the tallest tower in the Southern Hemisphere, the largest factory outlet complex in Australasia and a range of leading family attractions.
Whether idyllic islands, glistening harbours or modern city, Auckland can offer you an opportunity to replenish yourself in two quite contrasting environments. It is this blend of accessible outdoor playground and cosmopolitan city-life that is the envy of the world and why Auckland should be incorporated into your tour itinerary.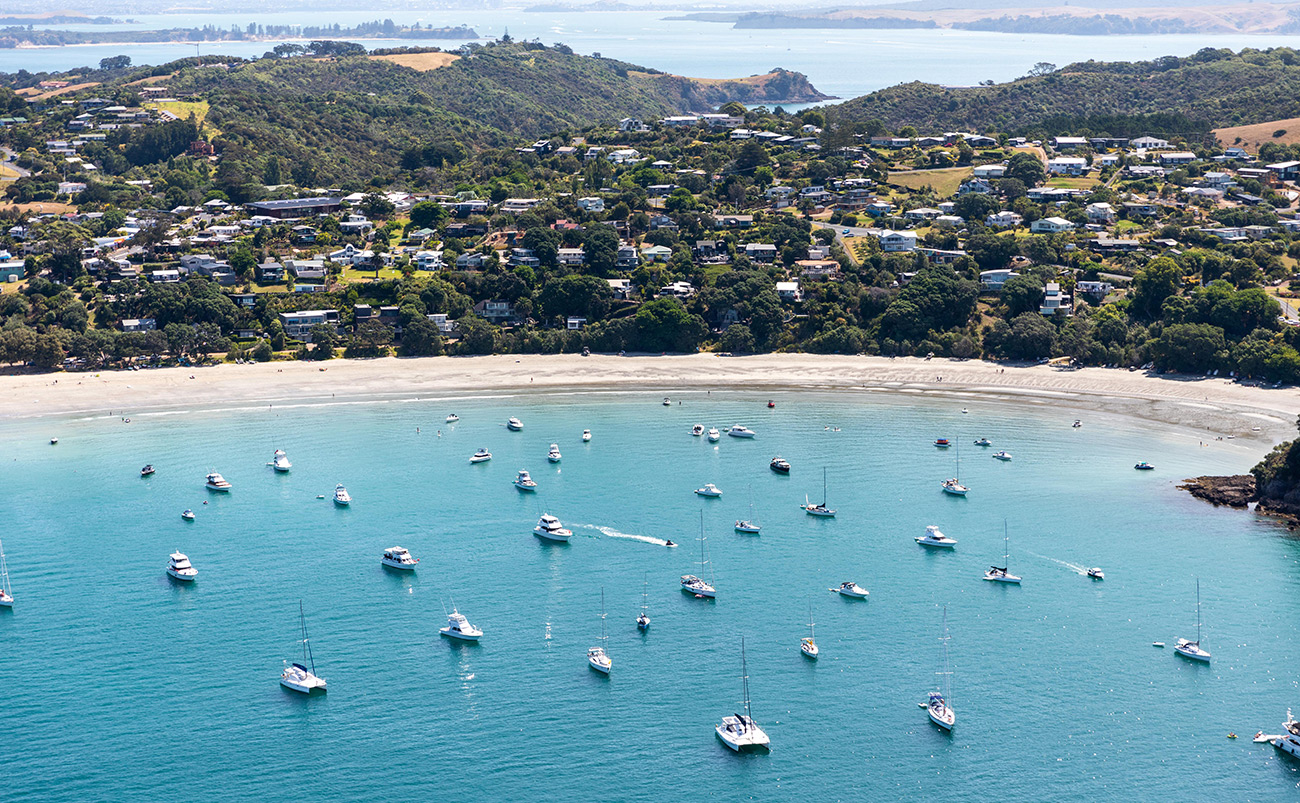 Cosmopolitan & Cultural
Auckland has perfected the style of cuisine called "Pacific Rim", blending Asian and Pacific flavours. Seafood features prominently on Auckland restaurant menus. Try New Zealand greenlipped mussels, succulent Clevedon Coast oysters or the local lamb or venison. The historic inner city suburbs of Ponsonby, Herne Bay and Parnell offer dozens of dining options, or try a waterfront restaurant in the Viaduct Harbour or Mission Bay. A steaming parcel of fish and chips is best eaten at a peaceful beach or bay. Another quick picnic idea is some fresh bread and a selection of cheese from the Puhoi Valley, north of the city.
To go with the food, Auckland produces a number of award-winning wines from its 80-plus vineyards. Wine making has thrived in Auckland since the early 1900s. Waiheke Island is famous for its reds, the west and north-west of Auckland is home to some of New Zealand's oldest wineries, while Clevedon to the south and Matakana to the north are newer grape-growing districts attracting attention. Look for admired Auckland labels such as Kumeu River, Stonyridge and Matua Valley. Some of the larger vineyards have very good restaurants offering dining among the grapes.
After dinner, there are plenty of options for enjoying Auckland's nightlife. Lively bars and pubs – many of which also serve food – can be found all over the central city, while the big dance clubs are centred on Karangahape Road, known locally as K Rd. The city's casino is located in the Sky City complex, which also has bars, restaurants and a hotel. Live music and theatre can be found in large venues such as the Aotea Centre, the Bruce Mason Theatre and Sky City Theatre. The Civic Theatre in Queen St has recently been restored to its art nouveau glory.
Another historic venue is The Pumphouse, an old brick water pumphouse constructed in 1894 on the edge of Lake Pupuke on the North Shore. Other smaller theatres are scattered through the central city and outer suburbs.
Visual arts are on show at the city's numerous galleries, the largest of which are the Auckland Art Gallery and its neighbour the New Gallery, which focuses on modern art and summer concerts are held in the crater of an extinct volcano at the Auckland Domain, Auckland's oldest park (established in 1845) and home to the Auckland War Memorial Museum.
There are numerous private galleries in the city centre. Artists enclaves, where you can visit the artists in their home studios, can be found in places such as Waiheke Island, Titirangi and Devonport. Follow the Harbourside Art Trail around Birkenhead and Northcote, which combines visits to artists in their own studios with a chance to relax in local cafes.
All of New Zealand's top fashion designers, many of which are gaining international reputations, have stores in Auckland. Real bargain-hunters can head to the Dress-Smart mall for factory and outlet stores. Unique Pacific-flavoured crafts, including tapa cloths and carvings, are also readily available in specialty stores and souvenir shops near the waterfront.
The Great Outdoors
Auckland is consistently voted one of the world's best lifestyle cities in international surveys. The cosmopolitan city centre is complemented by great escapes no more than half an hour from downtown.
An extensive network of regional parks covers some 37,000 hectares. There are farm parks, parks with archaeological sites and historic homesteads, marine reserves and botanic gardens.
One of the best ways to appreciate the City of Sails is from on the water. Regular ferries service the islands of the Hauraki Gulf, while charter boats are available in every incarnation, from classic yachts to speed launches. Windsurfing is popular in the bays around the harbour, and so is kayaking, with regular guided expeditions to the far reaches of the Waitemata.
The hiking trails in the Waitakere and Hunua Ranges, to the west and south of the city centre respectively, take you deep into cool, peaceful rainforest. The Woodhill and Riverhead plantation forests attract mountainbikers and motocross riders.
Apart from sailing and boating, Aucklanders' favourite past times include rugby and rugby league in the winter and cricket in the summer. Kilikiti, Pacific Island cricket, is played in suburban parks over the warmer months. The ASB Bank Tennis Centre hosts international events for men and women every January.
The Hauraki Gulf is also home to pods of dolphins and whales, which can be viewed on regular boat trips on the Dolphin & Whale Safari. Sea life can also be seen from underwater, through transparent tunnels built in an underground aquarium at Kelly Tarlton's Antarctic Encounter and Underwater World.
Auckland has more than 30 golf courses, including public ones at Takapuna and Chamberlain Park in Western Springs. At Gulf Harbour on the Whangaparaoa Peninsula, you can play on a cliff top course designed by Robert Trent Jones II, considered by many to be the world's finest designer of classic golf courses. Formosa, another of Auckland's legendary courses, has spectacular views of Rangitoto. Designed by Bob Charles, Formosa is the longest course in New Zealand – over 6,650 metres off the pro tees.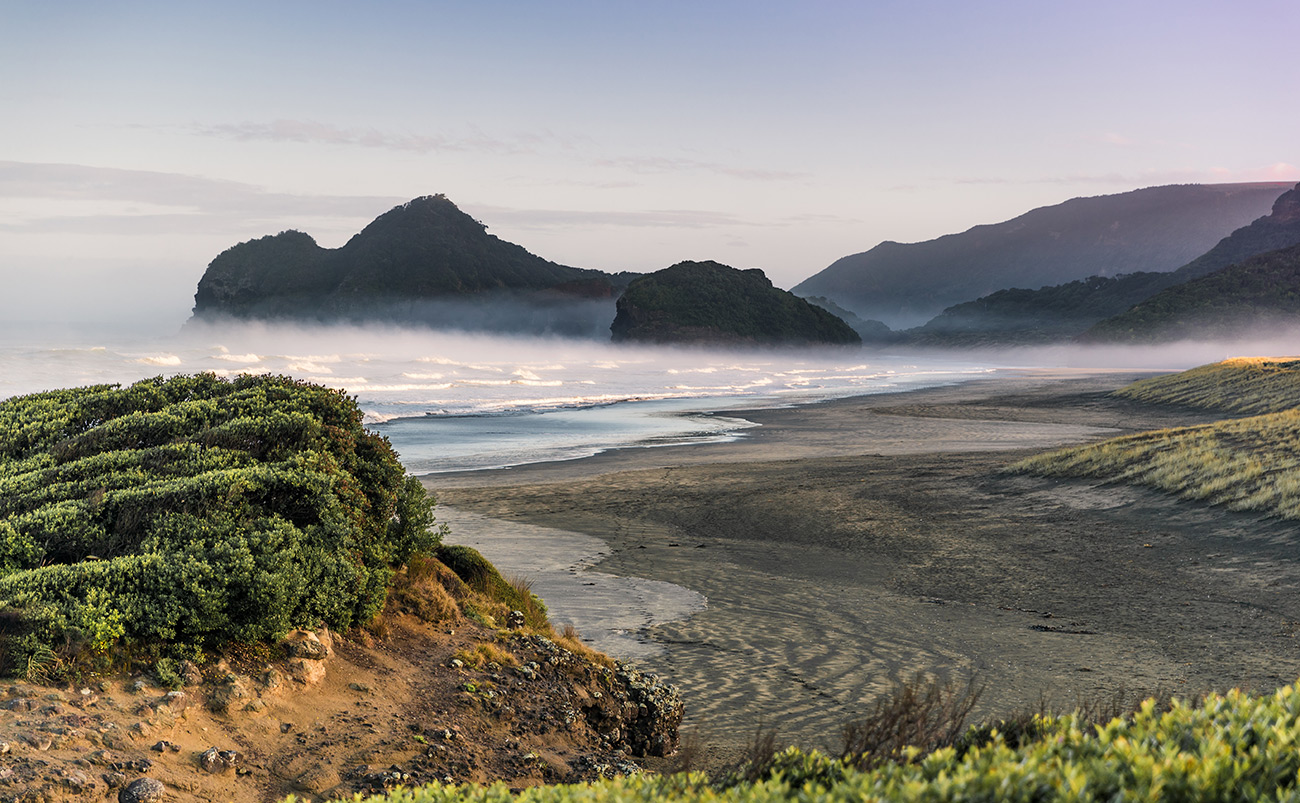 Scenic Highlights
Kawau Island – a fascinating mix of stately living and wilderness
The elegant, historic Mansion House of Kawau, with links to Sir George Grey (one of New Zealand's first governors), has been turned into a marvellous museum. During his time on the island, Governor Grey imported many exotic plants and animals – some remain today. The island has walking tracks leading to beaches, Maori pa sites and old copper mines. Kawau Island is only a short ferry ride from Sandspit – about one hour's drive north of Auckland.
Parks, walks and hikes in every direction
There are 22 conservation parks within easy reach of downtown Auckland. Between them they offer more than 500 kilometres of walking tracks. The Waitakere Ranges (Auckland's largest regional park) provide the perfect backdrop for walking. The Arataki Visitor Centre, at the Titirangi end of Scenic Drive, provides information about the parks, beaches and walking tracks in the area. The west coast surf beaches of Whatipu, Karekare, Piha, Bethells and Muriwai are unforgettable for their soulful beachscapes. Be sure to check out the avian aviators at the Muriwai gannet colony. Put on your mask and snorkel to meet the friendly locals at Goat Island Marine Reserve – follow the signs to Leigh from Warkworth (north of Auckland). We have several day tours that will take you out and about around Auckland.
Great Barrier Island, the final frontier
Guarding the outer Hauraki Gulf, Great Barrier Island has unspoiled beaches and vast tracts of native forest. It's home to several unique plant and bird species. The kind of rugged untouched beauty that you'll see here is getting harder and harder to find on this planet. The native bush is laced with walking tracks, which lead to secluded natural hot springs, mountain tops and historic Kauri dams. Rising 627 metres above the sea, Hirakimata (Mount Hobson) beckons the hiker with a promise of views that will never leave the mind. Most of the island's 285 square kilometres is a conservation estate, administered by the Department of Conservation. This island is also a popular destination for diving, fishing, surfing and camping. Book your tour to explore Great Barrier.
Special places to find in and around Auckland City
Take the ferry from downtown Auckland across to the seaside suburb of Devonport and enjoy a light café lunch and a spot of shopping. Alternatively, walk to the summit of Mount Victoria or North Head for 360° views. Ferries to and from Devonport depart every half hour. If you're feeling energetic, do the Coast to Coast Walkway – a unique walk joining the east and west coasts of Auckland. It takes you to many of the city's scenic icons.
Maungawhau and Maungakiekie
The highest volcano on the Auckland isthmus is Maungawhau (Mount Eden). While the lower slopes of the mountain are disguised by housing, Maori pa (fort) features can still be seen on the grassy upper reaches. Food storage pits, terracing and house sites are evidence of Maori settlement dating back to the 13th century. Maungakiekie, also known as One Tree Hill, is one of the largest volcanoes in the Auckland field. It was also one of the largest Maori pa sites in New Zealand – the terracing and kumara pits are plain to see. An archaeological trail leads you around the major points of interest.
The mysterious volcanic island of Rangitoto
Rangitoto Island, the most unforgettable feature of Auckland's inner gulf, pushed its way through the ocean floor around 600 years ago. The volcanic fireworks that accompanied it inspired local Maori tribes to call it 'Sky of Blood'. Take a train to the top or hike up the 260 metre high summit to witness the spectacular 360° views of the Hauraki Gulf and Auckland cityscape. The island also has lava caves, unique rock formations and pohutukawa forests. Rangitoto can be enjoyed as a guided tour, or visitors can walk to the top independently.
The forever-summer lifestyle of Waiheke Island
You'll lose ten years the moment you step ashore on Waiheke Island. Considered by many to be the most magical part of the Auckland experience, and easily accessed by ferry, Waiheke's beautiful beaches and native forest reserves harmonise delightfully with the cafes, vineyards and art studios. This island is perfect for a day's shopping and wine tasting, or several days of indulgent relaxation. Waiheke is renowned for its burgeoning wine industry, exclusive accommodation and for the many prominent New Zealand artists who have chosen to make it their home. Almost anything is possible on Waiheke, from horse riding and farm tours to sea kayaking and mountain biking.
Tiri Tiri Matangi Island – a conservation success story
Around 20 years ago, this 220-hectare island was largely barren farmland. In a unique partnership between the government and conservationists from Auckland, it was designated an open sanctuary, cleared of predators and planted in over three million native trees. Tiri provides an opportunity to visit a genuine open wildlife sanctuary. The island is home to many species of endangered New Zealand bird life, including the kiwi and takahe. Guided tours are available to help you enjoy this very special island, which is administered by the Department of Conservation. Book a sightseeing tour to Tiri Tiri Matangi Island.