According to Ngai Tahu legend, Aoraki and his three brothers were the sons of Rakinui, the Sky Father. While on a sea voyage, their canoe overturned on a reef. When the brothers climbed on top of their canoe, the freezing south wind turned them to stone. The canoe became the South Island (Te Waka o Aoraki); Aoraki and his brothers became the peaks of the Southern Alps.
About Aoraki Mt Cook
Although it encompasses 19 peaks over 3000 metres high, this park is very accessible. State Highway 80 leads to Aoraki/Mount Cook Village which is situated beside scenic Lake Pukaki and provides a comfortable base for alpine activities.
Mountaineers regard the area to be the best climbing region in Australasia, while less skilled adventurers find plenty of satisfaction with the mountain walks that lead to alpine tarns, herb fields and spectacular glacier views. Encounters with cheeky kea (mountain parrots) are part of the fun.
At 27 kilometres in length, the mighty Tasman Glacier is a powerful piece of landscaping equipment. While it slowly carves the valley sides, it provides a landing place for small ski planes and helicopters. Surreal, milky lakes are a feature of the park – suspended, glacier-ground rock sediment makes the water opaque.
Interesting Fact: Aoraki/Mount Cook, New Zealand's tallest mountain, helped Sir Edmund Hillary to develop his climbing skills in preparation for the conquest of Everest.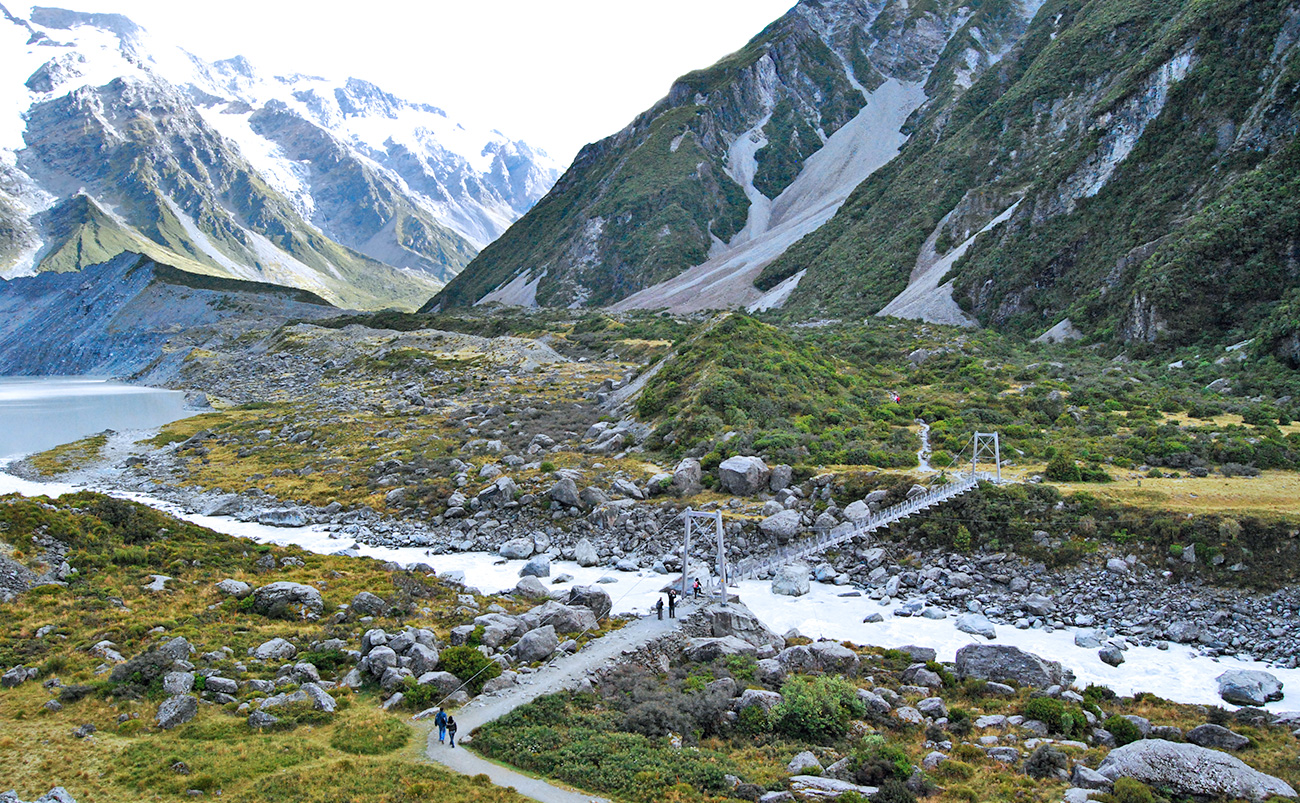 Where to Stay
In the National Park
The Department of Conservation provides 17 huts in the park. Most are positioned to provide accommodation for mountaineers, and you need climbing skills to reach them. Non-climbing visitors can enjoy the attractions of Aoraki/Mount Cook Village, which offers everything from backpacker lodges and camp sites to luxurious Hermitage Hotel. The Hermitage Hotel is famous for its barstool views of Aoraki/Mount Cook.
Around the Park
The nearest towns are Twizel and Lake Tekapo. They both offer a range of restaurants, cafes and accommodation options.
Things to Do
Mountain walks
There are 10 short walks beginning near the village. All tracks are formed and well marked. The Red Tarns Track, Kea Point and the Hooker Valley Track each take around two hours return. For more experienced alpine hikers, there are three mountain pass routes – over the Mueller, Copland and Ball passes.
Glacier viewing and skiing
Helicopters and ski-planes provide access to the park's fabulous glaciers. The Tasman Glacier is an excellent choice for intermediate skiers, while the Murchison, Darwin and Bonney glaciers promise excitement for advanced skiers. Landing among spectacular ice formations and caverns is the start of an unforgettable experience. From October until May, you can explore the Tasman Glacier's terminal lake by boat.
Mountaineering
Climbing Aoraki/Mount Cook remains the ultimate challenge, but there are many other peaks to tempt experienced climbers. Tasman, Malte Brun, Elie de Beaumont, Sefton and La Perouse are local favourites.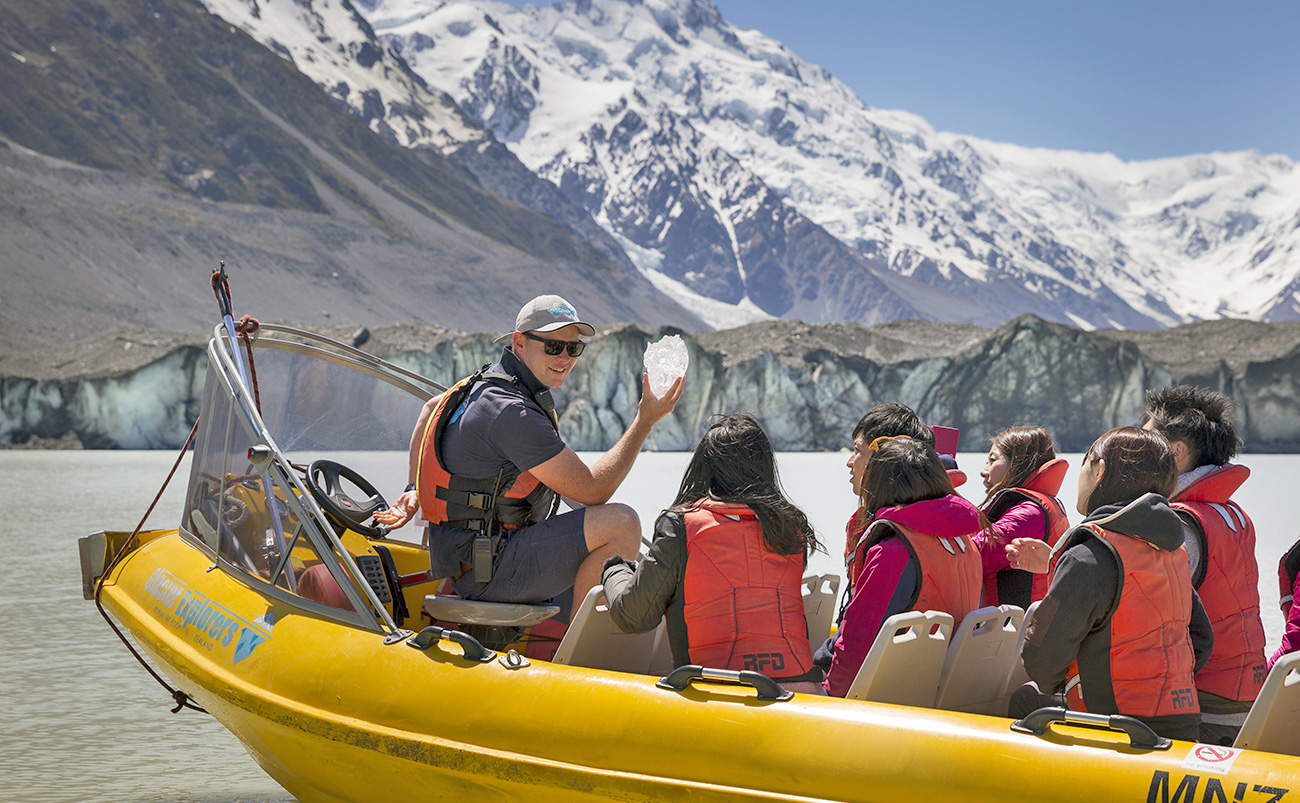 Best Time to Visit Aoraki Mt Cook
Summer (Dec-Feb)
For an alpine park, it can get very hot in summer – sunscreen is essential. Walk the alpine trails to see the flowers and mountain tarns, then cool off with a swim in Lake Pukaki. Keep an eye out for sudden weather changes.
Autumn (Mar-May)
A splendid time for walking the mountain trails. Early snow falls could permit a snowball fight at the top of the Red Tarns Track. Climbers should be prepared for blizzards, as winter sets in.
Winter (Jun-Aug)
The season for extreme climbing in the alps, when the ice is hard and avalanches less likely. Glacier skiers are making the most of the ample snow. The weather is often fine, but can change suddenly.
Spring (Sep-Nov)
Climb up the alpine trails and look for the Mount Cook Lily, which isn't a lily at all – it's a large, white buttercup. If you're picnicking near keas (mountain parrots), the Department of Conservation would prefer that you don't feed them.