The first people to discover Queenstown's rare beauty were Maori pounamu (jade) hunters. Then came the gold miners, in search of another kind of treasure. Today Queenstown is treasured for its magnificent scenery, adventure opportunities and luxury lifestyle.
About Queenstown
Long summer days blonde the tussocks, throwing the hills open to mountain bikers and hikers. The brilliant reds and golds of autumn colour the trees, inspiring photographers and golfers alike. In winter, snow transforms the region into a remarkable alpine playground for skiers and snowboarders. Spring brings the spark of fresh green to the landscape – a time to celebrate life with a cruise on the lake or an invigorating bungy jump.
In any season, you can count on stylish accommodation, designer shopping and marvellous cuisine experiences. Queenstown's compact downtown area is a cosmopolitan hub that's relaxed during the day and huge fun at night.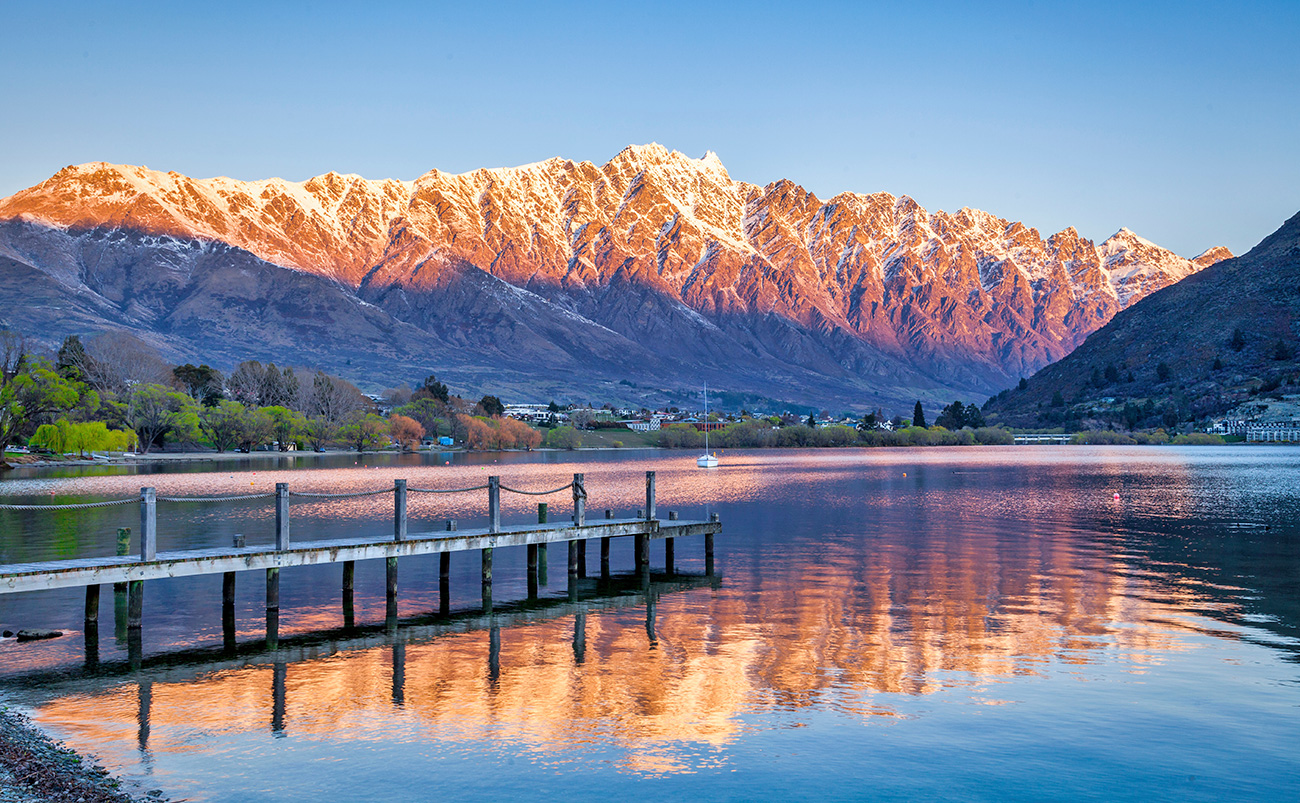 Historic Arrowtown
Twenty-one kilometers from Queenstown, Arrowtown is a combination of striking seasonal changes, historic buildings and quiet charm. The main street where new buildings have been developed in sympathy with old is testament to the town's determination to preserve its illustrious past.
The superb Lakes District Museum is located here, there is a growing café culture, great restaurants and much to do including superb walking and mountain biking tracks, excellent fishing, horse riding and gold panning. It's an artistic town and artwork ranging from traditional to contemporary is on exhibit in the many homestead studios surrounding Arrowtown, in several galleries and in the Museum, which changes its themed exhibitions regularly. The boutique Dorothy Browns Cinema specializes in constantly changing foreign and classic movies and is also home to exciting art displays.
Arrowtown knows how to put on a party and the main street is often alive with entertainment from the Miners' Band, the Buckingham Belles and all the fun of a country fair as local artists display their wares on the Village Green.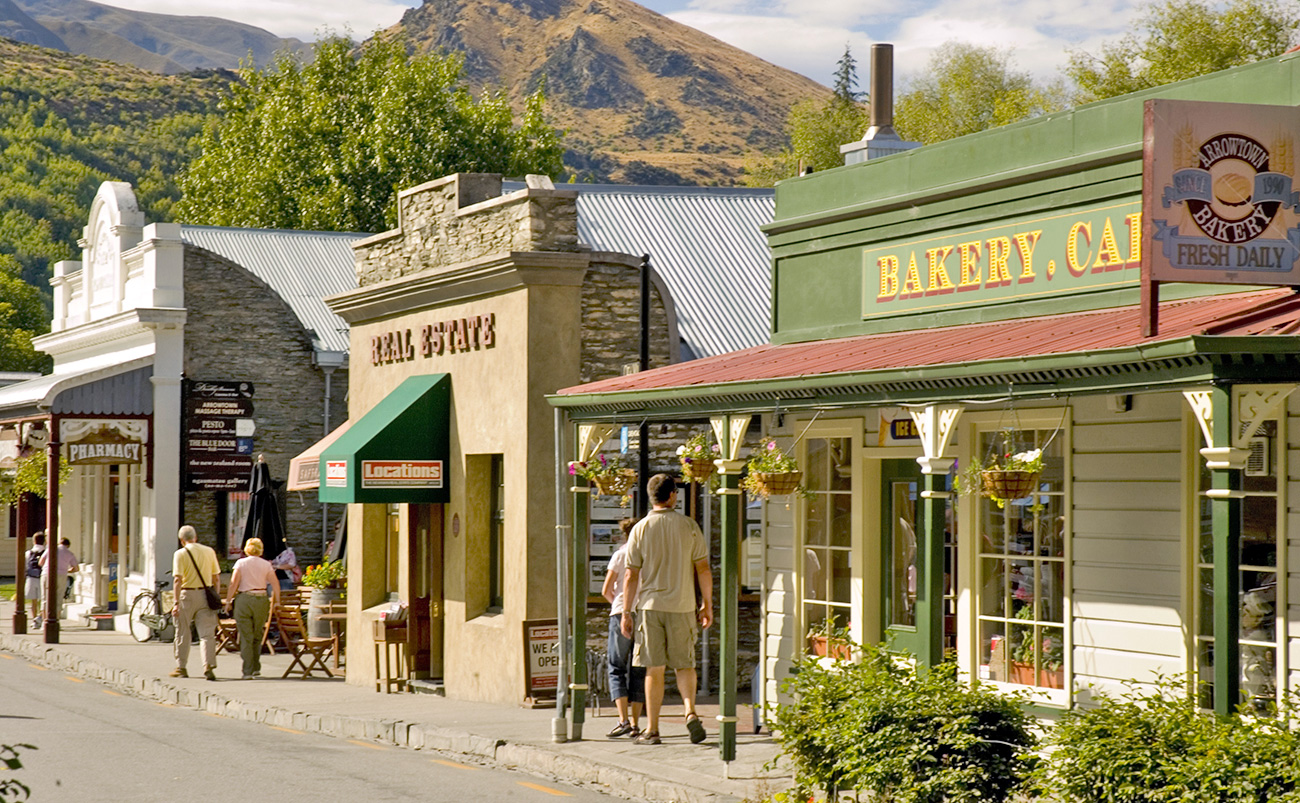 Best Time to Visit Queenstown & Central Otago
Summer (Dec-Feb)
Tourists have flocked to this region for summer holidays since the 1880's. While the attractions of clear waters, fresh air and breathtaking scenery haven't changed, the list of activities means there's plenty to entertain over the summer season.
Daytime temperatures hover between 20 – 30°C (mid 70°s – 90°F). At latitude 45° south, the summer days are long – midsummer dawn is as early as 5am while dusk settles around 10pm.
Come late December, Queenstown, Arrowtown, Lake Wanaka and Te Anau move into holiday mode as New Zealanders settle into their favourite resort towns for the annual break. Others prefer the laid back style and scorching temperatures of Central Otago. Several typically New Zealand events are staged at this time offering the opportunity for international visitors to mingle with the annual influx of New Zealand holidaymakers. Summertime is high season for the walking tracks. Bookings are essential for the Milford, Routeburn (guided and independent options) and Kepler (independent only) tracks.
Autumn (Mar-May)
A luxurious and relaxed time with a backdrop of brilliant reds and golds of the autumn leaf fall. Walk, horse ride, go wine tasting or goldpanning. Known for stable, clear weather it's a great time to holiday in the Southern Lakes. Warm days allow for most daytime summertime pursuits and you'll enjoy occasional balmy evenings. Come sunset and you'll relish fireside evenings.
Temperatures fluctuate between several degrees below zero and 25°C (32°F – 77°F), so pack a few layers, including t-shirts. Leaves normally begin to turn in late March or early April. By the end of the month fall colours are in full swing. Take a walk along the banks of the Arrow River to fully appreciate the vibrant backdrop.
Winter (Jun-Aug)
A magical season of snow capped mountains and clear blue skies. Six snow areas, with an après ski culture to match, promise a fantastic winter holiday. The town is alive with the happy sounds of people reliving the day's skiing. International visitors rub shoulders with locals, united in their passion for snow sport. Dress warmly – winter temperatures seldom reach higher than 7° C and often fall below zero.
The snowfields open from early June, and a good season generally runs well into October. Get to grips with the basics of snow sports, take to the piste or throw down freestyle tricks at six different ski fields, all a comfortable driving distance from Queenstown.
Chilled out or adventure central, this four season resort has heaps to do – choose from relaxation, high energy pursuits, art, culture, wining and dining, shopping, or adrenaline stirring activity. Arrowtown is a delightful day trip, and from Glenorchy experience the tranquillity of Mount Aspiring and Fiordland National Parks.
Spring (Sep-Nov)
Stretch out as the trails, golf courses and gardens defrost and bloom. Fresh clean air, warm daytime temperatures, cool evenings and a time when the skiing is often at its best. Restaurant tables creep on to the sidewalks and the beaches fill with people enjoying warm late afternoon sunshine. Sit in a café and people watch, browse the markets and shops, hike the hillside trails, take in the new colours and scents, reawaken adrenaline with adventure. Plan to dress in layers for rapid weather changes as equinox winds and sudden, quick showers regularly refresh the landscape and air between hot sunny periods.
Weather is unpredictable, sublime one moment, spring showers the next. Temperatures span 8°Celsius to 22°Celsius (48°F to 75°F). A great time to take a garden tour. You'll find an astonishing range of bulbs, annuals and perennials creating colourful displays as a prelude to the more showy blooms of summer. The high alpine tracks are just open. Early in the season is a relaxed and unhurried time to walk in the mountains.
In Central Otago, the hills are mauve with flowering herbs, particularly wild thyme – a great time to wander the vast and scented landscape. The low lying river fishing season opens on October 1. The alpine river fishing season opens on November 2. Low lying rivers are generally described as those flowing out of the great lakes, the alpine are those flowing in.