A few thousand years ago Lake Taupo itself was created by the largest volcanic eruption of the past 5,000 years, it was so big records say the sun went hazy in China. Today, what remains is a lake the size of Singapore, the largest fresh water lake in Australasia.
What to do in Taupo
Visitors can sky dive over the lake, four wheel drive on volcanic farm land, peruse constantly active geothermal landscape, taste geothermally breed prawns, learn about local authentic Maori culture and myths, play golf on internationally acclaimed golf courses, enjoy a flight over a world heritage area, ski on an active volcano or even bungy jump over New Zealand's largest River – the Waikato. Or if it's relaxation and rejuvenation you require, why not soak in a thermal hot spring, try some of the best trout fishing on the globe, take a cruise to the famous Maori Rock carvings at Mine Bay, find a secluded beach, indulge in boutique shopping, enjoy delectable cuisine at one of the many restaurants, cafes or indulge in a cocktail at one of the groovy lounge bars.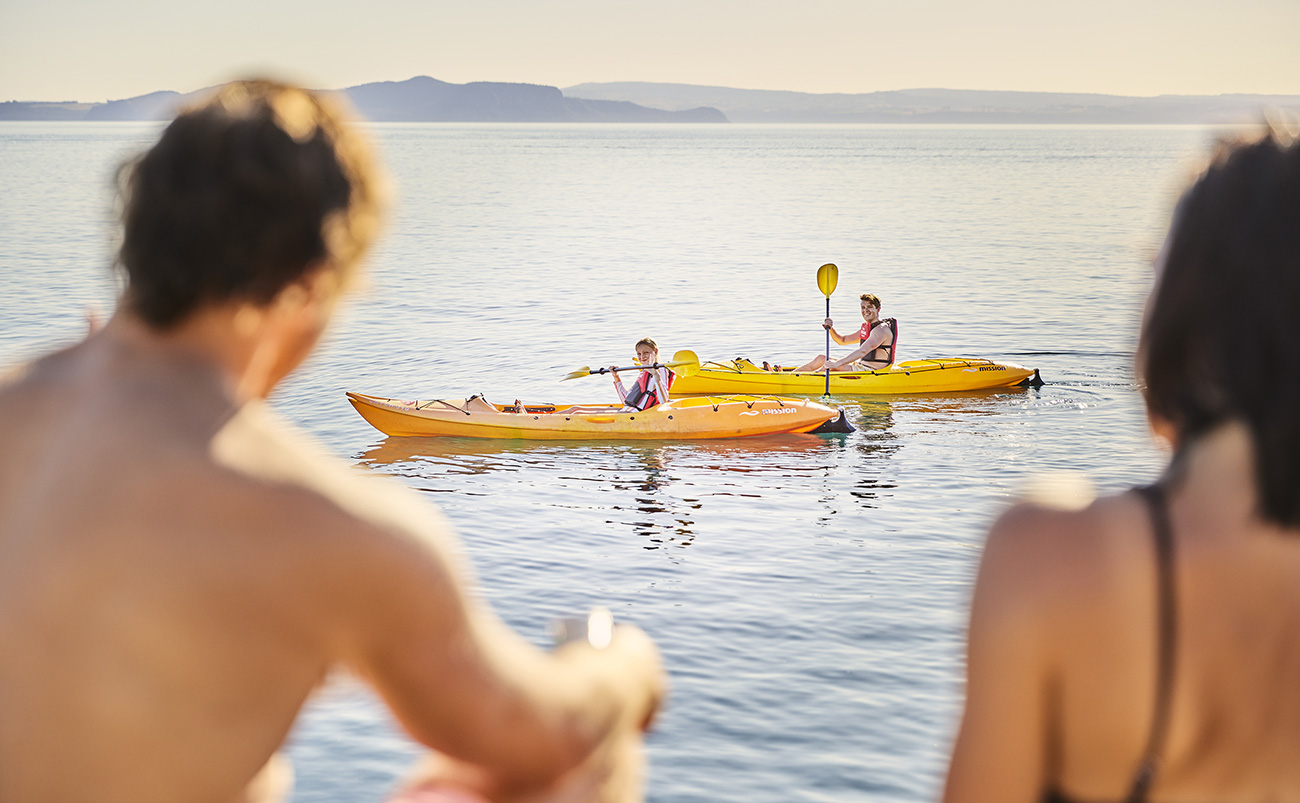 Fire and Ice
Tongariro World Heritage National Park contains three magnificent volcanoes – Mt Ruapehu, Mt Tongariro and Mt Ngauruhoe (which stars as the scary 'Mt Doom' in the movie "Lord of the Rings"). Drive right around the lot on the famous Volcanic Loop Highway. See them from above on a breathtaking scenic flight. Or if you want to get real close, the 17km Tongariro Crossing is considered the best one day hike in New Zealand.
Mt Ruapehu has the award winning Turoa and Whakapapa ski areas on its slopes. Together they make up the largest ski area in New Zealand with 1,800 hectares of groomed snow. Being in volcano country, the region is also famous for its many geothermal attractions. Both the Taupo and Tokaanu townships offer weary travellers the ultimate health spa experience – the chance to luxuriate in bubbling, hot natural mineral waters with nothing above you except the stars.
Just minutes north of Taupo near the village of Wairakei are boiling mud pools, thermal valleys and steaming geysers plus brilliantly coloured silica terraces. Hot stuff alright.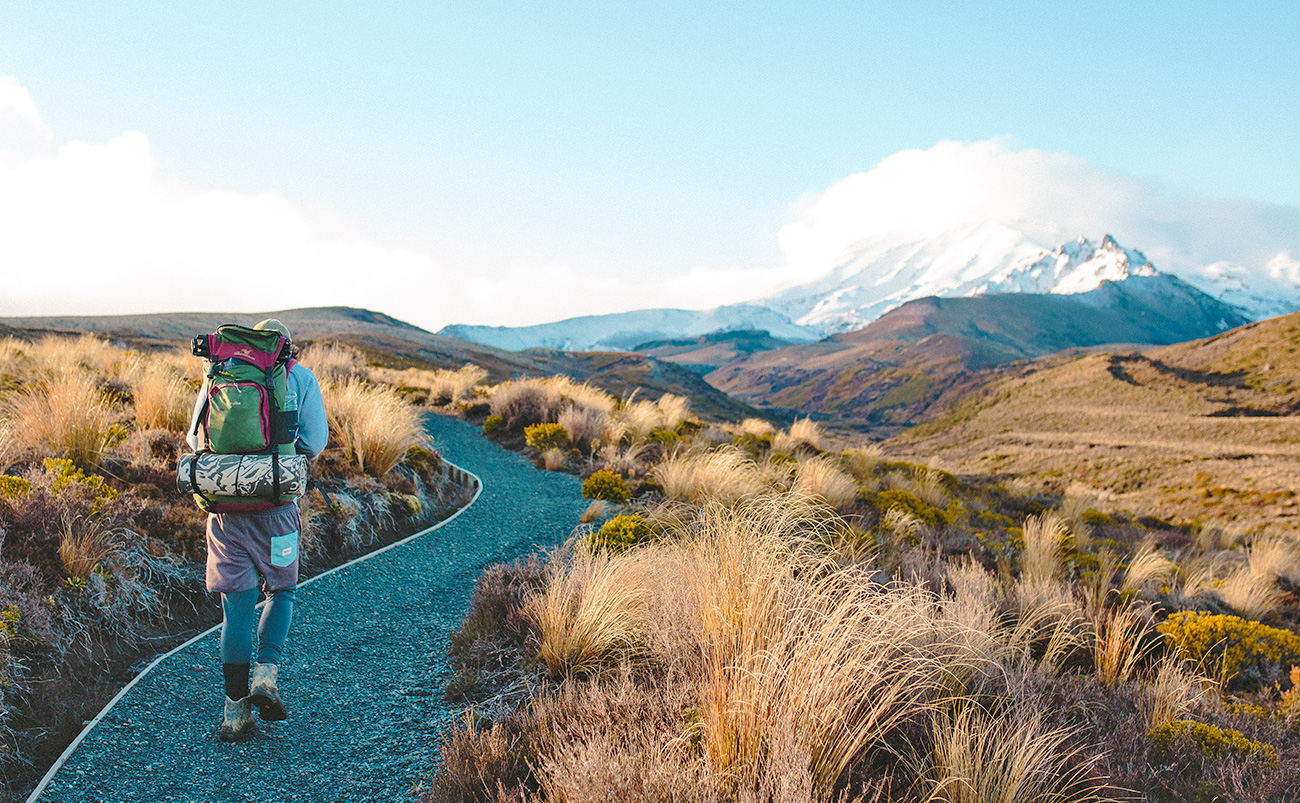 Adventure Plus
Got ants in your pants or a teenager in your family? The Lake Taupo region has every adrenalin pumping adventure you could want. And a heap you've never tried before we bet. Options include jetboating, 4×4 motorbiking, white water rafting, kayaking jet skiing, tandem skydiving, bungy jumping, horse trekking, parasailing, replica racecar driving, mountain biking, abseiling, rock climbing, skiing and snowboarding.
But it's not just the "man-made" attractions that make the Lake Taupo region an adventure-junkies paradise. Take a moment to look around your surroundings. Wild, unspoilt, unmatched. The little town of Turangi at the southern end of the Lake is "Adventure Central". On its doorstep are the Tongariro River, Tongariro National Park, Kaimanawa Ranges, Lake Taupo and the Whakapapa and Turoa Ski Areas. If it's an outdoor adventure you're after, start here.
Indulgence
Just in case you have the impression we only do rugged, relax. We've got all the comfort bases covered too, from boutique to grand. Huka Lodge near Lake Taupo consistently ranks as one of the top 10 lodges in the world. The Queen has stayed here many times, bless her.
At the southern end of the Lake are more internationally renowned lodges where movie stars and ex-Presidents discretely retreat for a spot of TLC (trout, luxury and champagne). And in Tongariro National Park, the setting sun turning a massive, snow-covered volcano pink has to be one of the best lounge bar views in the world. Fine tune your game on one of the six excellent golf courses in the region including the Wairakei International Golf Course and Kinloch Club.
Dine out in one of the many wonderful restaurants. Soak in a natural mineral spa, sunbathe in a secret bay, sip a fine cappuccino at one of the many cool outdoor cafes. Or grab a map and follow our colourful new Arts & Crafts Trail. And remember not to pack too much for a Lake Taupo holiday because the shopping around here is excellent with many of the shops open seven days a week.
Natural Beauty
Here you'll find some of New Zealand's purest, untouched, unspoilt, uncrowded country. A few minutes south of the Lake is Tongariro National Park, New Zealand's first national park and a World Heritage Area.
It was created in 1887 when it's three big volcanoes, Ruapehu, Tongariro and Ngauruhoe, were gifted to New Zealand by the Ngati Tuwharetoa people. On the western side of the Lake is the Pureora Forest Park – see what the world used to be like. To the east of the Lake, the Kaimanawa Forest Park contains vast ancient beech forests. At the Pureora Forest Park you can walk through ancient rainforest so untouched, some of New Zealand's rarest flora and fauna still thrive here.
In the beautiful Whirinaki rainforest, local Maori offer a fascinating and illuminating eco-cultural experience with fully escorted walks, treks and wonderful manaakitanga (hospitality). For a further fascinating insight into the customs and history of the Tuwharetoa people, visit Wairakei Terraces where you can see a replica Maori village, treasured Maori carvings, indigenous cultural performances and enjoy a traditional hangi feast.
Family Fun
We're a great place for families too. Sure we've got all those everyday essential kids stuff like hamburgers, crotch-dragging jeans and skate ramps, but what will really impress the jaded little tykes is the huge range of healthy outdoor attractions you won't find in any city mall. Take the kids trout fishing, cruising or sailing on the Lake, go eco-exploring secret beaches in a kayak or float down the Tongariro River on a white water raft. In summer there's every watersport you could shake a snorkel at.
In winter there's every snowsport from tubing to snow scooters and the beginner facilities on Mt Ruapehu are brilliant. Hire a mountain bike and zoom along some of the many beautiful forest trails. Take them horse trekking, 4 wheel quad biking or mini-golfing. We've got thermal water parks, indoor climbing walls and hole-in-one golf.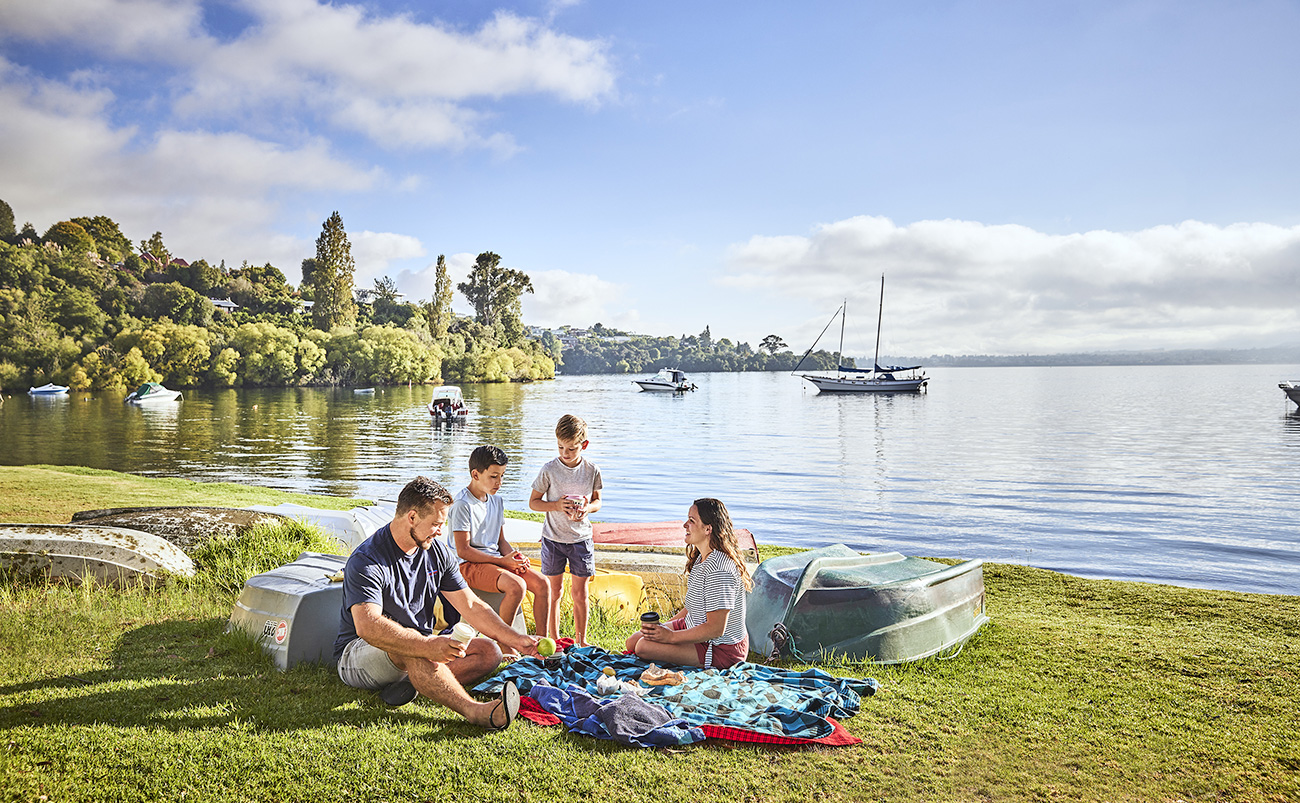 Trout Paradise
In a country world famous for trout fishing, the Lake Taupo region is the best of the best. The trout here are big; legendary for their size, condition and attitude. Anything under 4 pound (1.8kg) is considered a minnow. A real New Zealand adventure is to hire a guide and explore some of the gin-clear streams and rivers of the region. The Tongariro River at the Southern end of Lake Taupo is one of the best trout rivers in the world – a 'temple of the sport' as one overseas magazine raved.
At the National Trout Centre (www.troutcentre.org.nz) beside the Tongariro, a new under river viewing room lets you get a trout's-eye view of the action. Big, fat rainbow trout on one side of the glass, fishermen weeping on the other. Even if you're a novice, the chances of catching a gleaming, silver trout during your stay are very good. Some of the local guides who operate charter boats on the Lake actually guarantee you'll catch a trout. And you haven't lived until you've eaten fresh manuka-smoked Rainbow-on-rye.