Wellington, New Zealand's capital city, is imaginatively positioned between a picturesque harbour and forested green hills. The city is home to memorable arts, cultural and heritage attractions including the national museum, Te Papa. Natural attractions, such as the wild south coast, are within easy reach of the city centre.
Something for Everyone
Sophisticated yet friendly, Wellington has great shopping and nightlife. The downtown area can match New York with the number of cafes and restaurants per head. Just north of Wellington city is the Hutt Valley, an area that offers a variety of outdoor and adventure experiences, including bush walks, fishing and thrilling mountain bike tracks.
Porirua, towards the west coast, has a reputation for energy, creativity and talent – it is a significant Pacific Island and Maori art and culture centre. The Kapiti Coast, less than an hour's drive from Wellington, is where you will discover world-class wild life sanctuaries, fantastic golf and gourmet food experiences.
Interesting facts …
Wellington has an international airport, ferries connecting the North and South islands and an extensive train and bus network.
Wellington's compact size means it only takes 20 minutes to walk from one side of downtown to the other.
Visitors are often surprised by how much there is to see and do in Wellington – ensure you allow enough time.
… and an expert tip
Venture out to Kapiti, Hutt Valley and Porirua – each area has unique experiences to offer travellers.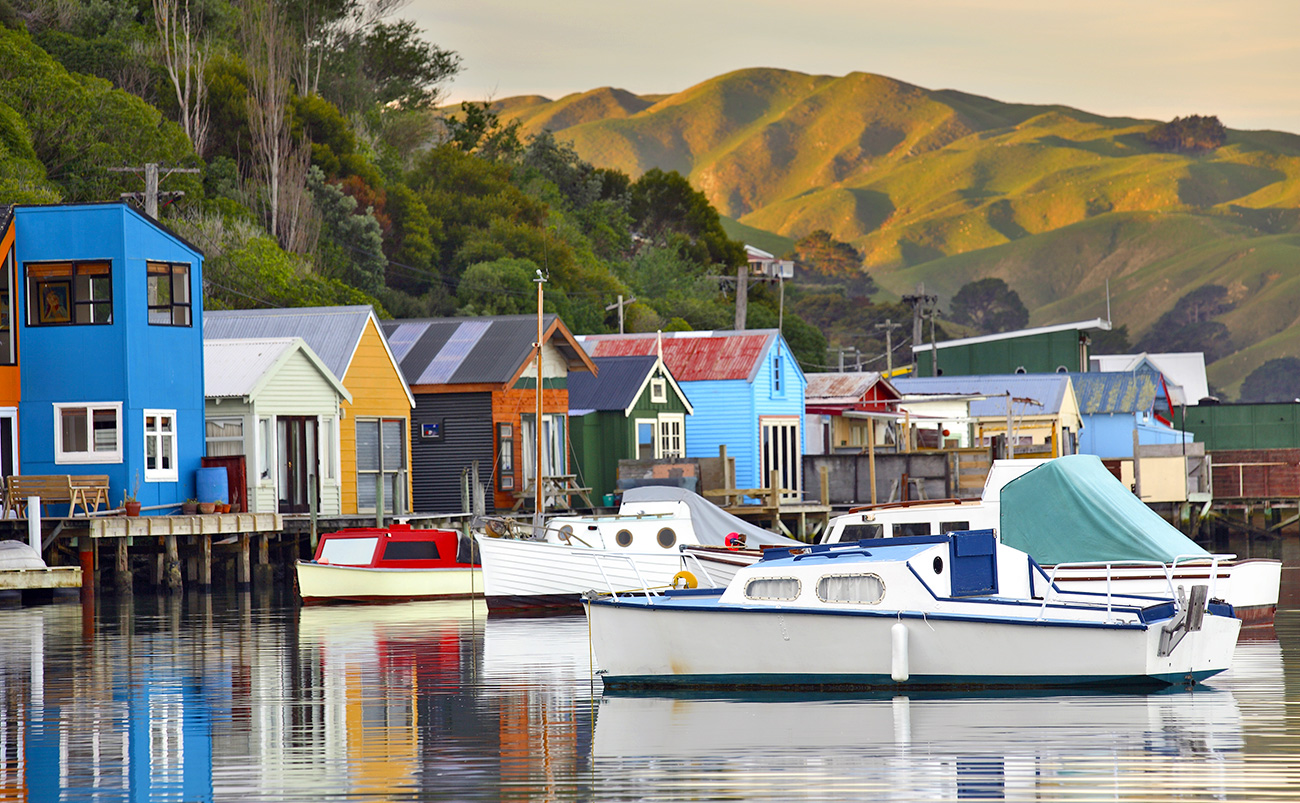 Exploring the Inner City Landscape
Wellington has one of the world's most beautiful harbours. The waterfront area between downtown and Oriental Bay is a popular recreation area for visitors and city dwellers.
Walk around Queens Wharf to Oriental Bay for a swim at the golden sand beach. If you're feeling adventurous, try sea kayaking, rollerblading and rock-climbing. Or make yourself comfortable at a café, bar or restaurant and quietly absorb the massive harbour views.
There are numerous other walking routes to follow, from coastal tracks to hikes through the hills. Nothing defines a city's character quite as well as its architecture. Wellington's most striking architectural feature is the collection of historical timber houses displayed on the green hills surrounding the harbour. The wooden theme is a consistent one, as you'll see when you visit Old St Paul's, Katherine Mansfield Birthplace, Antrim House, historical Thorndon and the Old Government Buildings – the largest wooden structure in the Southern Hemisphere.
At the southern end of Lambton Quay, you'll find an interesting collection of parliamentary buildings. Admire the Victorian Gothic Parliamentary Library, the Edwardian neo-classical Parliament House and the 1960s 'Beehive' – the executive wing of the parliamentary complex.
Catch the cable car from Lambton Quay up to the Botanic Garden, then wander down through 26 acres of specialist gardens, native bush and lawn areas to historical Thorndon, New Zealand's oldest suburb. Or take in the 360° panorama of Wellington city, harbour and the Cook Strait from the top of Mount Victoria.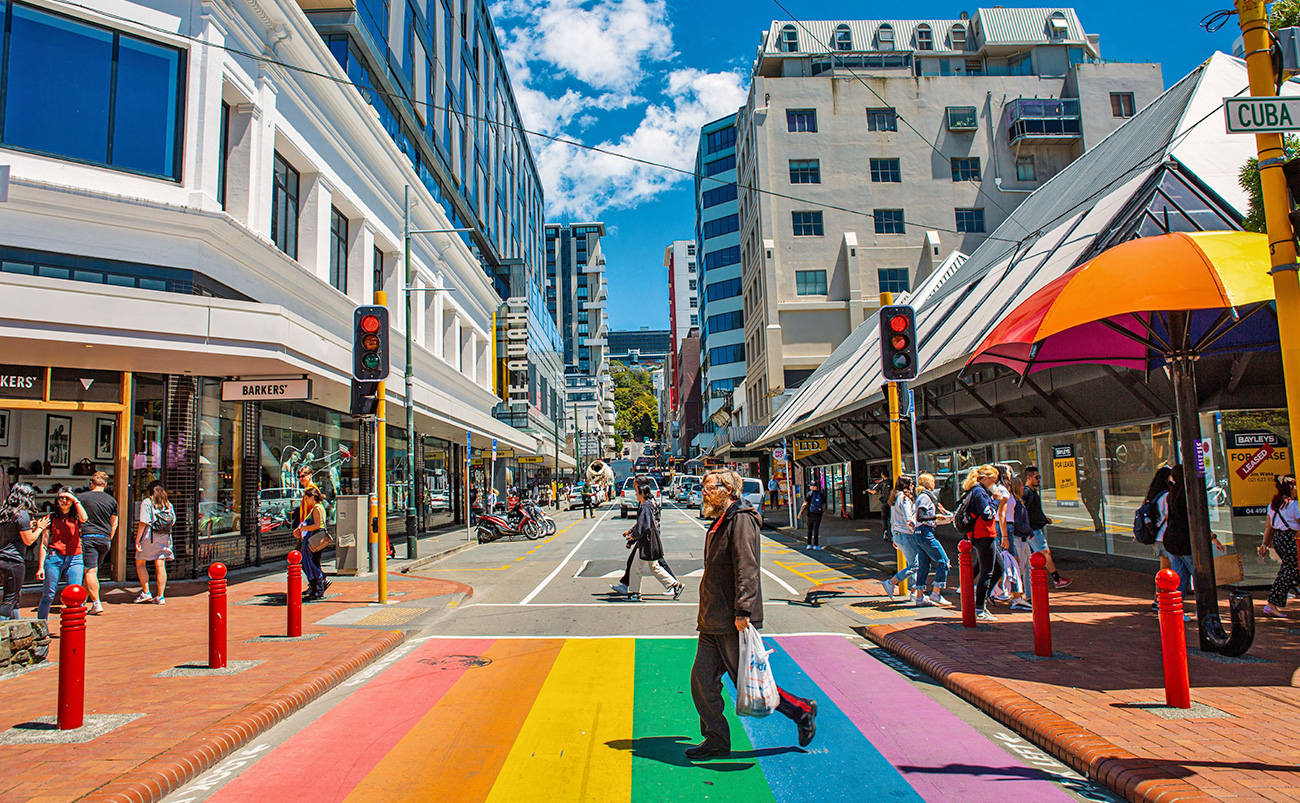 Best Time to Visit Wellington
Summer (Dec-Feb)
Summer is a great time to explore the city's beautiful harbour. Regular ferry services operate between the city and the seaside village of Eastbourne, where you will find art galleries, outdoor cafes and scenic coastal walks. Days Bay is an excellent beach for a swim. You could also stop off at Matiu/Somes Island for a picnic in the middle of the harbour – look for native wildlife such as tuatara and little blue penguins.
Autumn (Mar-May)
Orca and dolphins often visit Wellington's coast and harbour during the autumn months. There are various ways to see them – watch from the city's waterfront, catch a ferry to Eastbourne or cross Cook Strait on a day trip to Picton. If you have seafaring skills, take advantage of the beautifully clear weather and hire a boat.
Winter (Jun-Aug)
Downtown Wellington offers a warm escape from winter. The many restaurants, bars, cafes and galleries provide cosy shelter from the elements. Winter is an ideal time to explore the city's art galleries and museums. Be sure to explore Te Papa, the Museum of Wellington City & Sea and the City Gallery Wellington. Or head out to Pataka in Porirua and The Dowse in Lower Hutt.
Spring (Sep-Nov)
Clear spring days provide the perfect opportunity to mountain bike through the native bush of Makara Peak. Or take your bike out to the Hutt Valley and ride one of the many tracks along the river or through the hills.