Itinerary
This is a 5 day self-guided cycling tour that travels the Nelson Tasman region of the South Island of New Zealand.
It's an easy, flat ride today and a nice soft introduction on the first day of your cycling trip. McCashins Tap Room or the café at Pic's Peanut Butter World are popular venues for a snack before you head off. Once out on the Great Taste Trail Coastal Route it's a flat ride around the Waimea Estuary before heading towards Rabbit Island beach. You will pass close to Seifried Estate Winery with onsite restaurant Harvest Kitchen en route. Stop for a break, have a swim, or bring a picnic to have on the beach, before catching the ferry from Rabbit Island to the Mapua Wharf. It is casual and summery on the wharf, with kids swimming, busy cafes, another brewery and hot smoked fish and chips to be eaten straight out of the paper. There are lots of neat things in Mapua, including a great gallery (with the best range of craft jewelry in the region) and the old wharf is a great place to relax at the end of the ride.
Cycling distance: 22km
Optional: Consider adding an extra night in Mapua, allowing time enjoy this arty, foodie village. There is plenty to fill a relaxing rest day here. With two nights in Mapua, there is also time for an on-road day ride to the village of Upper Moutere. For those with an interest in art, wine or beer, this day in the Moutere area is a must. Enquire for pricing and availability.
From Mapua, the Great Taste Trail follows the coast to the sleepy settlement of Ruby Bay before a steepish climb of approximately 1 km up onto an elevated route above the coast among the apple orchards. You then have a beautiful gentle downhill ride into Tasman village where there is a village store, café, stylish pottery and an optional detour out to the beachfront on the Kina Peninsula. The route then turns back uphill for a longer climb of approximately 3km to the Moutere ridge. The next gravel section (4.5 km) climbs and descends as you follow the ridge (elevation approximately 110 m). It's not a long section so take it easy and enjoy the views. Check out the café on the site of Riverside Community – the oldest alternative community in NZ. Approaching Motueka township, the trail passes Toad Hall Café & Townshend Brewery, a great place to relax with some food and beer under the big oak trees in the garden.
The final section from Motueka, is coastal and flat… until the end! This is "honesty box" country so expect some fresh fruit (in season) including cherries, boysenberries, strawberries, apples, grapes, feijoas, citrus and melons. Leaving Motueka the trail heads to Riwaka, a cute little village which is home to a great café and a craft brewery. The trail then follows the rugged coastline as you approach the Abel Tasman National Park before ducking into the Kaiteriteri Mountain Bike Park. This last section of 3.1 km is intermediate grade (trail grading not mountain bike grading!) and takes the Easy Rider Trail through the park. The surface is smooth and it is not technical, but you might want to take it very gently as there are some tight corners and some riders prefer to walk and enjoy the lovely bush clad trail. You will soon get the first glimpse of your destination – the stunning golden shores of Kaiteriteri Beach.
Cycling distance: 43km
Optional: Consider adding an extra night in Kaiteriteri. There is a range of accommodation available and with two nights in Kaiteriteri you can use the following day for a trip into the Abel Tasman National Park. Wilsons Abel Tasman offer a range of single day walking and kayaking trips in the park. Enquire for pricing and availability.
Return to Riwaka via the Great Taste Trail and enjoy a stop at Ginger Dynamite; a quirky café which serves delicious food and coffee from a couple of converted containers.
Meander close to the banks of the Motueka river as you steadily climb the valley which sustains many fruit and hop farms in this horticultural area. Crossing the river at Peninsular Road allows you to make a detour to River Haven for a tasty treat, before continuing on to Woodstock.
Cycling distance: 38km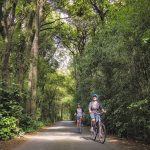 The ride to Wakefield today enables you to ride the newest section of the Great Taste Trail. Opened 2022, you're treated to a climb over the Baton saddle. This gravel road trail takes you deep into a forested area with many hilly sections. To avoid these hills, you might wish to stay on road, following the previous route of tjhe Great Taste Trail. Riding into Tapawera for a bite to eat at the café or hotel is a welcome resting point.
Onwards towards Kohatu, you'll join sections of the old railway line and the iconic Spooner's Tunnel – almost 1.4km and always a refreshing experience! Freewheeling through pine forest to Belgrove and NZ's second oldest windmill you're soon back in some beautiful regenerating forest which is worth having a stroll around. The Wai-iti river then leads you into Wakefield, a historic town with a big heart and classic Kiwi Hotel.
Cycling distance: 50km
Wave goodbye to Wakefield and ride through flat farmland on your way towards Brightwater, birthplace of Ernest Rutherford and location of the first street light in the South Island. You have a choice of cafes and wineries to sample as you continue on towards Nelson. You might want to celebrate the end of your tour with a refreshing beer hand-crafted in the hop capital of NZ. McCashins Tap Room and Eddyline brewery are our favourites and conveniently located near our base.
Cycling distance: 23km