Itinerary
This is a 11 day self-drive itinerary that travels the South Island of New Zealand, starting and finishing in Christchurch.
"Haere Mai" Welcome to Christchurch – the Garden City! Disembark, pass through customs and collect your luggage – it's time to start your holiday. Your rental car is ready to whisk you away to your centrally located accommodation.
What should you do with the rest of the day? Take it slow, sit back and relax, punting down the River Avon through the stunning Christchurch Botanic Gardens.
Head south today across the Canterbury Plains, through the picturesque town of Geraldine . Be sure you make a photo stop at Lake Tekapo, a beautiful turquoise coloured lake. Visit the Church of the Good Shepherd on the shores of the lake. This is one of the most photographed churches in the world made of stone and sand from around the lake.
You are now in Mackenzie Country and the scenery is fantastic as you drive to Lake Pukaki and turn towards the Southern Alps and Mt Cook, New Zealand's highest mountain. Follow this glacier-fed lake and the Tasman River all the way up to the alpine village of Aoraki-Mt Cook.
There are many tracks for walking and tramping in this area – you can find the most suitable for you by going to the Visitor Centre.
There are scenic flights available by helicopter or fixed wing aircraft, and if you wish to have a glacial adventure there is the Glacier Explorers excursion on Lake Tasman at the base of the Tasman Glacier.
Leave New Zealand's highest mountain behind today as you drive through Twizel and Omarama before heading up over the Lindis Pass – this is the area where gold was first discovered in the Central Otago region in 1861. Central Otago has a harsh but beautiful landscape due to its summer heat and winter cold.
A lot of gold was discovered in the area in the late 1800's. More recently in the late 1900's it's been discovered as a great place for growing grapes so there are some good reasons for exploring this area.
Continue on through the Kawarau gorge to get to the alpine town of Queenstown where you are staying for three nights.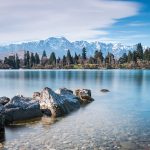 There are a huge number of activities to choose from here in Queenstown – for the adventurous there is bungy jumping, jet boating, skiing, 4WD Safaris snow boarding, rafting and skydiving to name a few.
There are also some less adrenaline producing activities such as a cruise on Lake Wakatipu, a ride up the Skyline Gondola, or even a great day out on the Dart River Wilderness Safari.
Today we've included the Milford Sound Nature Cruise. Travel by luxury coach on an unforgettable journey from Queenstown into Milford Sound. Upon arrival at Milford Sound, board our vessels, the Milford Mariner or Milford Wanderer which are designed along the lines of traditional trading scows; purpose built to operate in the fiords and offering a laid back, extended, 2.5 hour cruise.
Explore dramatic, moody Milford Sound, New Zealand's most famous waterway. Throughout your cruise, our nature guide provides an engaging commentary about the magnificent scenery and wildlife (English only). Keep a look out for dolphins, seals and penguins.
Return by coach to Queenstown or weather permitting, you can choose to fly back to Queenstown.
This morning, journey up the West coast of the South Island to Fox and Franz Josef Glaciers. Drive to Cromwell and Wanaka. Stop in Makarora for an essential, short walk along the Blue Pools Track nearby. Refreshed by the brisk mountain weather, continue your climb over the Haast Pass, reaching the West Coast – where ancient rainforests tower above you.
Continue north, through dense rain forest broken by rugged coastal vistas, towards the glaciers.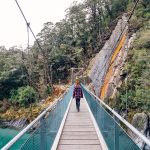 There's lots to explore in this area – you can take your own time walking up to the glacier, going to the Okarito Lagoon or join a guided walk on the glacier, take a heli-hike adventure, or a scenic flight over both glaciers.
After your exploration has concluded, bathe under a rainforest canopy and climb into the Franz Josef Glacier hot pools for some warm R&R.
There are some facinating old towns to visit on the way north today as well as some great places to photograph the scenery and take a look at the dramatic coastline.
Drive north of Greymouth to stay the night at Punakaiki, best known for its Pancake Rocks and Blowholes – both of which are spectacular and a must-see when visiting the West Coast.
Other activities include canoe adventures, horse trekking, caving and guided tours to name just a few. Punakaiki has many colourful local crafts people – jewellers, carvers, painters and potters.
Once you've finished your morning exploration of this area make your way back to Greymouth then turn inland to travel over the beautiful Arthur's Pass. Along the way you'll see the awesome engineering feats of the Otira Viaduct and Tunnel.
You'll have time to stop and look around before descending through some fantastic alpine scenery and on down to the Canterbury Plains and Christchurch.
After breakfast this morning, please make your way to the airport where you will return your car in time for your onward flight.